24 Hour Boiler Repair in London
What's the best thing you can hope for from an emergency plumber? Whatever your answer is, we're quite sure it will be included in the list of services that come as standard from Emergency Plumbers:
EMERGENCY BOILER REPAIR
Our emergency plumbers offer a wealth of expertise, experience and professionalism, so if you urgently need a plumber, any time of the day or night , Contact us as soon as possible – we're here to help!
Plus our 24 hour service offers plumbing to you within 1 hour day or night. We offer FREE call outs, Free estimates, Free Quotes and Free guarantee with every job we undertake.
CRACKED PIPES
So we'll work towards solving it as quickly and affordably as we can.
LEAKING JOINTS
Our experienced and helpful staff will always be happy to assist you.
Leaks, burst pipes and boiler problems
A leak can be anything from a steady drip you can't seem to get rid of to a major water leak that can ruin the interior of your home if you don't stop it quickly enough. But the good news in all these cases is that a fast call to Emergency Plumbers will result in an equally-fast response.
We know plumbing worries can be just that – a real worry. You don't need to fret over a burst pipe or unidentified leak along with everything else you have to focus on in life. That's why it makes perfect sense to contact the one company you can rely on to help out, no matter what time of the day or night it is.
EMERGENCY PLUMBING
If you're in the London area and your boiler breaks down or you can smell gas, contact the 24 hour emergency plumbers at A&C Heating and Plumbing  immediately. Available seven days a week, we operate across Harrow, Ealing and Islington carrying out first rate emergency plumbing services at all residential and business properties, covering everything from burst pipes to broken boilers; gas leaks to blocked drains.
We understand that finding trustworthy emergency plumbers is hard, our 24 hour emergency plumbing service London is reliable fast and helpful, especially when your boiler or central heating has broken down or become faulty within the colder months.
Services Offered :
Qualified plumbers
Cylinders and hot water
Radiators and pipes
Competitive prices
No callout charge
Water leaks.
Ballcock repairs.
Leaking radiators.
Leaking bath.
Burst pipes
Central heating problems.
Blocked sinks, blocked drains, toilets and pipes..
PLUMBING SERVICES
A&C Heating and Plumbing are able to carry out a wide range of comprehensive plumbing services, including shower plumbing, repairs to toilets, leaks, burst pipes and much more. We also provide an all-round service for bathroom installations, offering all plumbing, heating and electrical work in one total package, with everything from fitting sinks to tiling and grouting provided. Not only does this make life easier for you, it also means you are able to take advantage of our great value rates, and we offer a 12 month warranty on all parts and labour.
Our plumbing services also cover:
Commercial Plumbing
Plumbing Emergencies
Blocked Drains
Hot Water Heating Cylinders
Overflows
Pipes and Radiators
Power Flush
Heating Systems
Kitchens
Bathrooms
Ballcock repairs.
Toilets, taps and shower repairs.
EMERGENCY BOILER REPAIR
If your boiler breaks downs or develops a fault, it can cause a lot of issues. Even if you're lucky (or unlucky) enough to suffer from maintenance issues during summer when your central heating is off, you probably still rely on your boiler for hot water. For this reason, if a breakdown occurs, it's important to book a boiler repair as quickly as possible.
All of our heating engineers are all fully Gas Safe registered and can fix your fault quickly and efficiently, leaving your home neat and tidy just as they found it. Having a faulty boiler can be problematic for many reasons.
Local emergency response:
Servicing & Repairs
Installations & Replacement
Gas Leaks & Safety Check
Combi & Regular Boilers
Relocations & Upgrades
Emergency Boiler Repairs
Thermostats & Timers
Under Floor Heating
Immersions & Port Valve
Power Flushing & Filters
Emergency Heating Service
Pumps & Cylinders
BOILER SERVICES
We strongly recommend that boilers are checked on an annual basis to maintain efficiency and ensure safety. Newer boilers are also required to have an annual service carried out to ensure continued warranty support from the manufacturers.
A full clean of your boiler and an analysis of the flue combustion gasses will be performed and a full written report given.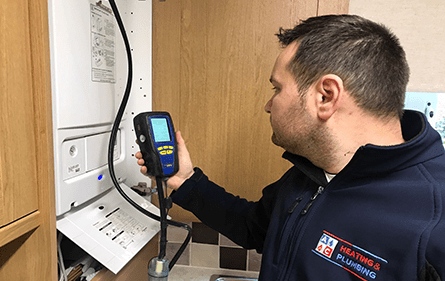 Some of the most common boiler problems we see include:
Test boiler for safe operation
Test c0/c02 levels
Test that the gas supply is safe
Check all working parts
Clean your boiler
Lubricate where needed
NO HOT WATER
Strange noises
switches on and off
Improved boiler efficiency
Retubing condensers
Cost reduction by preventing downtime
CLIENT'S TESTIMONIALS
Very personable service, patient and willing to help. Pleasant experience and will definitely use them for any future heating and/or plumbing needs!
Brian W.
London
Came the same day as I phoned. Did a really good job fixing a timer to my old boiler system. Excellent service. THANK YOU!
Chris R.
London
Quickly figured out the issue with boiler and quickly came back and repaired it. Great to have a plumber that knows what they're doing.
Dane K.
London