Reliable & Safe Water Heater Repair Kensington
Water heaters are a very useful appliance for your home. It provides you with a regular and instant supply of water. However, if it fails to do that and stops working when it is cold, everyone at home will feel troubled. Therefore, it has to be ensured that your water heater keeps operating efficiently.
If you live in Kensington and are facing any difficulty related to your water heater, you can rely on our water heater repair services in Kensington. Our qualified and experienced plumbers will trace the fault in no time and provide you with the required repair services. If your water heater has completely broken down, we can provide you with Hot Water Heater Replacement in Kensington on the same day. Our services include:
Water heater installation in Kensington
Repairing services for water heaters
General maintenance & inspection services
No Matter How Big or the Trouble, We Can Resolve It
Whether you have a tankless system, or gas or electric water heater, whether it is big or small, our plumbers will provide you with completely satisfying solutions.
24-Hour EMERGENCY FREEPHONE
Call Us Now 0779 559 5757‬
Water heaters can face several problems such as:
Replacement of a heating element
Leaky Valves
Pressure problems
Mineral build-up or Corrosion.
Uncontrollable temperature
Abrupt changes in temperature
Pilot light or burner issues.
Ignition failures
Blockage of exhausts
Do not worry if you are facing any of the above because our Hot Water Heater Repair Kensington team can fix anything.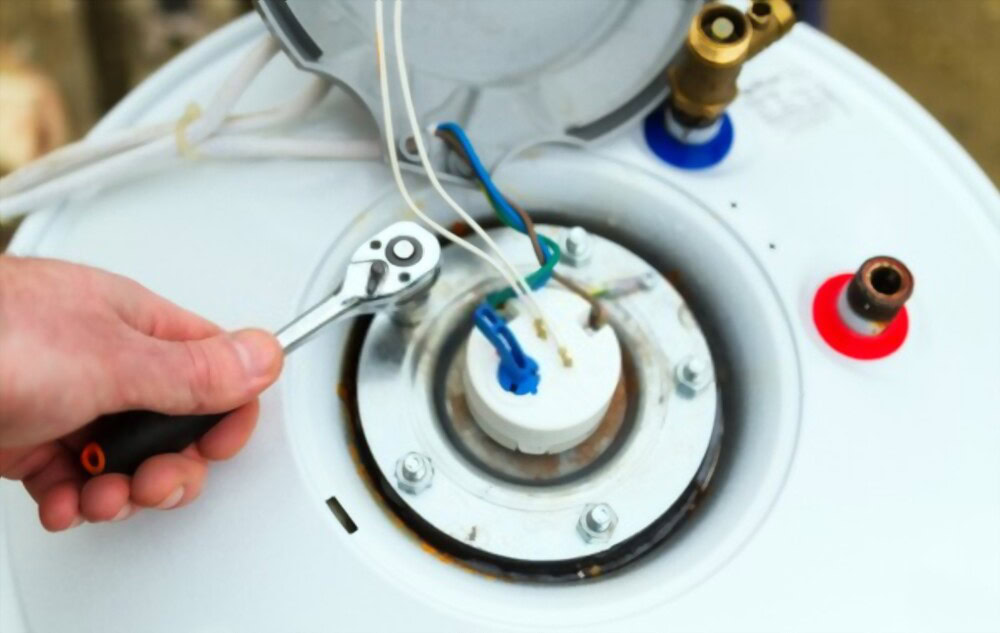 24-Hour EMERGENCY FREEPHONE
Call Us Now 0779 559 5757‬
How Do We Fix the Issues Your Heater Is Facing?
When you contact us for water heater repair Kensington, our plumbers will respond by:
Promptly arriving at your property.
Inspect the water heater thoroughly.
Diagnosing the issue accurately.
Advise you regarding the most beneficial repair or replacement options for you.
Repairing or replacing any components of your water heater.
Cleaning up before leaving.
What Are the Signs That Your Water Heater Needs Emergency Water Heater Repair in Kensington?
There are some signs which can tell you if there is something wrong with your water heating system and if you require Water Heater Repair Kensington, such as:
Parts appear rusted or corroded
Discoloured water or water with particles
Odd smells or sounds
Heat up time is too long
Sudden fluctuation in pressure or temperature
Regular water heater maintenance in Kensington by an expert plumber can help you identify these problems before your water heater breaks down.
Our Service Speaks for Itself
We provide services which will leave your water heater as good as new. We offer:
Replacement of Heating Element
Damaged or worn-out heating element is the most common problem faced by Electric water heaters. The heating element is the one that heats your water. If it is not working properly you will not be able to get the right temperature and if it breaks down, you will not get any hot water at all. When you call our plumbers for water heater repair in Kensington, he will quickly assess your heating element and repair or replace it right away.
Cleaning or Repairing Burner Assembly
Gas water heaters have a pilot burner assembly for creating heat. These components can get dirty because of ash build-up. If they are not cleaned regularly, it will result in inefficient burning, raising your energy costs. If you believe there is any such issue with your burner, you can rely on us. Just call our Hot Water Heater Repair Kensington team and they will be at your site.
Water heaters that have a storage tank are typically equipped with safety valves, also known as temperature-pressure relief valves. These valves open for releasing water as well as pressure in case the internal pressure becomes too high. Over time, or because of some damage, the valve can leak. This will lead to water loss and damage which will affect your home. If you notice any such thing, call us for Emergency Water Heater Repair in Kensington.
Which Outstanding Services for Water Heater Repair in Kensington Set Us Apart from Others in the Market?
We offer:
Same day repairs & installation
24/7 and 365 days a year emergency repair service
Quick response and completion time
Lowest cost of repairs in the market
Top-performing water heaters
Qualified and experienced plumbers
Low costs do not mean cheap water heater Kensington services
Whether you need Hot Water Heater Replacement in Kensington, repair services, or general maintenance services, get in touch with us today by calling us on our registered number.